Fretting because Christmas is coming and you don't know what's a good gift?
Here are some lovely interesting suggestions that will just bring a smile to your friend's face!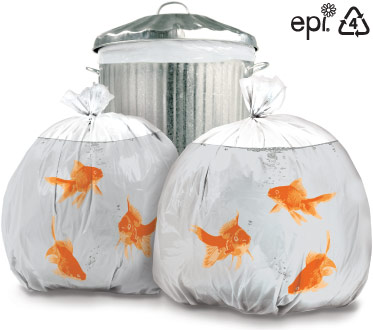 1.Happy sack bin bags



Now you can make the boring chore of taking out the rubbish more artistic! Brighten your day and bring a little happiness to your streets on collection day!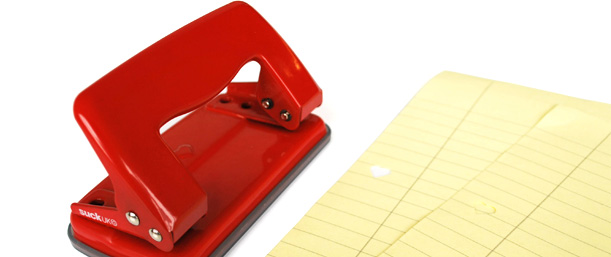 The office romances, the flirting at the photocopier, the disciplinary action
after the Christmas party… For a place so fraught with love and lust the
office is quite a dull place to look at - corporate sponsored mugs, tastefully
chosen comedy calendar and passive aggressive notes about borrowing
other peoples stationery all add up to ruin the romance of a day at work.

Luckily for your love life (or for your love of filing at least) we've come up
with something to put the passion back into your paperwork – our Heart
Hole Punch is a classically styled metal hole punch which punches 2 heart
shaped holes instead of round ones. The only hint to its secret is the subtle
heart shaped centre point. Who says romance can't be understated.
You even end up with heart shaped confetti at the end! Ideal to sprinkle
around the photocopier when you-know-who will be there…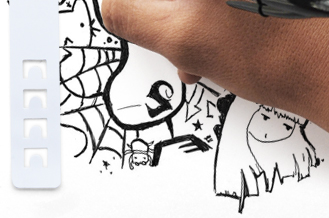 3. Paper watch
It's difficult coming up with new design features for watches, they've been around for a while you see. Our mate Darren has one that's waterproof to 100m, and there's one in the Argos catalogue that you can have your name lasered onto. Based on this we decided it was best to cut out all the gimmicks, and leave the designing part up to you!
Paper Watch is a blank canvas, a plain watch made from tear-resistant paper-style material with a built-in digital watch.
It can be whatever you want it to be, style it yourself with biros, marker pens, paint, stencils or anything else you can find to express yourself! Even better, adorn it with doodles and give to a friend to wear! What better way to make sure that person who's always late is never late, than with a custom-made watch to remind them of your plans! It isn't waterproof to 100m, and you can't point a laser beam at it, but it does come with an adjustable strap, long-life battery, and infinite possibilities.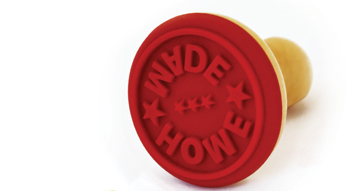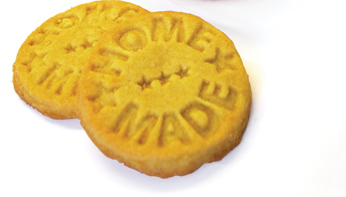 4. Home made Cookie Stamp

In an age where we buy everything from hot chickens to frozen yoghurt at the supermarket, it can be refreshing to explore the home baking aisle and go home ready to make your own cookies.



Take a stand against profit-driven global expansion: Bake your own biscuits ... mark them with our HOME MADE Cookie Stamper ... shout 'Power To The People!'



Try the recommended recipe!

Ingredients:
250g butter
140g caster sugar
1/2 tsp salt
1/2 tsp baking powder
300g plain flour
1 egg yolk
2tsp vanilla extract
Directions:
1. Preheat oven to 190ºC (gas mark 5)
2. Sift together plain flour, baking powder, sugar and salt.
3. Mix in butter and blend until mixture is crumbly. Stir in egg yolk and
vanilla essence. Blend well. Chill dough for one hour for better cookies.
4. Regularly sprinkle work surface and stamp with flour.
5. Separate dough into golf ball sized chunks.
Slightly flatten the balls and stamp.
6. Place on a greased baking sheet.
Bake for 6 - 8 minutes, or until lightly brown.
7. Remove from oven and leave for a couple of minutes to harden,
then transfer to a wire cooling rack.
8. Enjoy your 'Home made' cookies : )
6. Emergency Break Glass Money Box
Add coins at your own risk: only by smashing the glass can they be retrieved. As you watch your money literally build up, you will be torn between the desire to save more or cash in. With money rapidly disappearing into plastic cards and online transactions, the physical presence of the 'In Case of Emergency' money box will make you think more carefully before you decide to splash out. What will be your moment of need?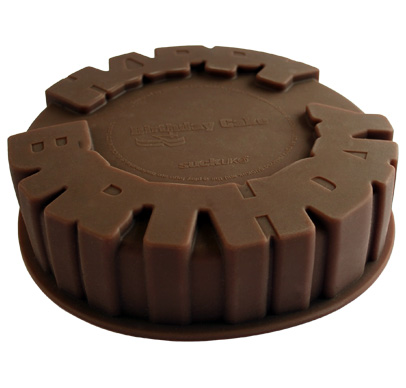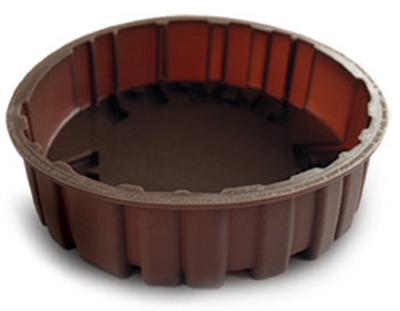 7. Bake a birthday cake that says it all!
Birthdays. You make plans for days ... and still end up with a disappointing victoria sponge (probably decorated with soggy
iced footballs). The Happy Birthday Cake Mould makes it much more fun. Create the cake that really does say it all. You can
use it to microwave the perfect cake in 6 minutes - maximum impact with minimum effort - marvellous! (And we promise not to
let on how easy it is). And if you want to bake your cake the traditional way in the oven,
the mould is heatproof to 300 degrees.

Made from food grade silicone, with a recipe embossed onto the rim. You'll never need to eat a soggy football again!
How to make a cake
Mix 100g (4oz) butter and 100g (4oz) sugar until smooth and creamy. Beat 2 eggs and sieve 100g (4oz) self raising flour. Mix eggs and flour gradually into butter and sugar mixture. Place mixture in cake mould and put in pre heated oven at 190 C, (gas mark 5) for 20-25 mins. Decorate, put candles in and eat!

8. Dart Coat Hooks
They look so cool you may not want to cover them by hanging up your coats
Perfect for your friend who is a secret agent wannabe!
Which is your favourite?
mine definitely has to be the 'home made cookie stamp'